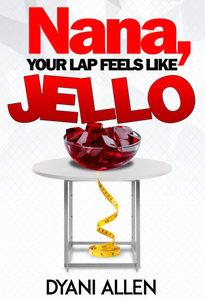 Dyani Allen
Nana, Your Lap Feels Like Jello
Regular price
$12.00
Sale price
$15.00
Unit price
per
Racial profiling has been a source of outrage and disdain across the country for the past few years. Many have become enraged and even embittered by the wave of heinous mistreatment and injustices which have occurred. But have you ever considered that you may be guilty of callous mistreatment of others?
Societal stigmas of obesity cause many to feel justified in their acts of Fat Shaming. Criticizing and ridiculing overweight people may appear to be in jest; however, these insensitive acts cause unwarranted hurt and humiliation to those who are targeted.
Written as a personal memoir, my personal weight struggles are transparently detailed. Whether you're facing your own battle with weight or simply unaware of the challenges, this book will provide inspiration, edification, and illumination.
---